A Starry Welcome Awaits You!
At Teen Patti Stars, every new player is a rising star, and what better way to begin your journey than with a dazzling Sign-Up Bonus? As you step into our galaxy of games, we ensure you start on a winning note.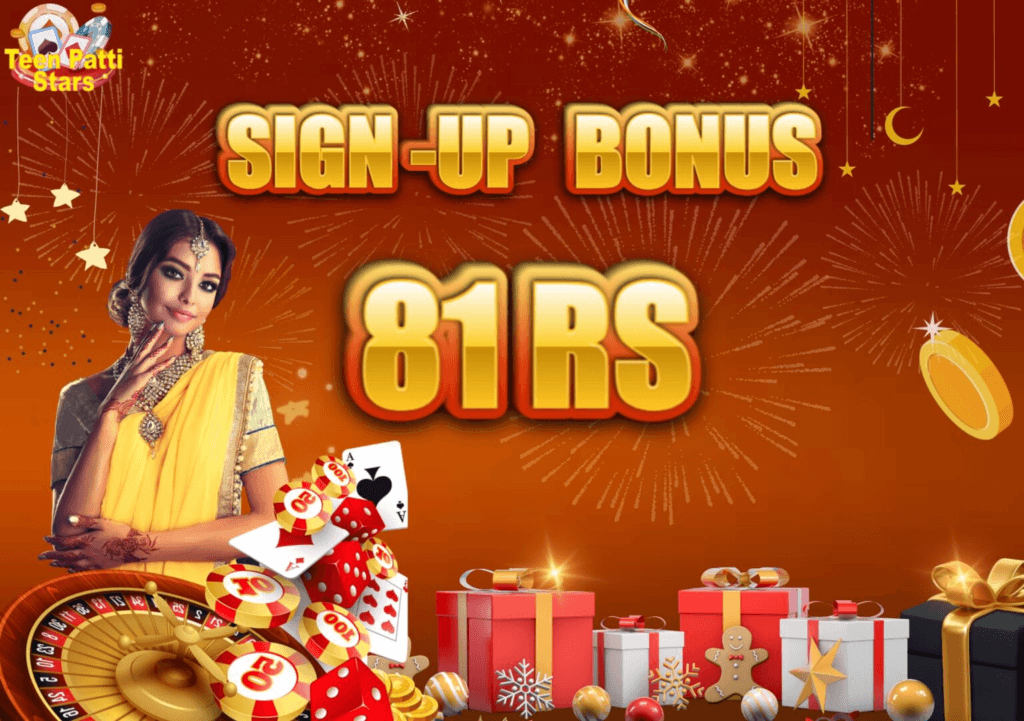 Get a Bonus When You Sign-Up: ₹50 to ₹100!
Joining Teen Patti Stars? We have a special treat for you. When you sign up, you'll get a bonus. The fun part? You could get anywhere from ₹50 to ₹100. It's a little surprise for every new player.
How to get your bonus?
Join Us: Just create an account on Teen Patti Stars.
Look in Your Account: After you sign up, you'll find a bonus added. It could be any amount between ₹50 and ₹100.
Start Playing: Use your bonus to play games.
Why Our Sign-Up Bonus Shines Brighter?
Instant Boost: Kickstart your Teen Patti Stars experience with an immediate boost to your balance.
Easy Activation: No complications. No fuss. Just sign up, claim, and play.
Universal Play: Use your bonus across a variety of our games, exploring all that Teen Patti Stars has to offer.
We Guarantee You:
Generous Start: With our sign-up bonus, you'll have enough to sample each and every game in our application. Experience the full range of what Teen Patti Stars has to offer.
Seamless Experience: Our intuitive interface ensures effortless navigation, letting you switch from one game to another smoothly.
Regular Updates: Our gaming galaxy is ever-expanding. Stick with us, and you'll always encounter new and thrilling adventures.
Round-the-Clock Support: Queries or assistance? Our dedicated support team is at your service 24/7.
When you start playing with Teen Patti Stars and sign up, you're already off to a winning start!
What's even better? All our bonuses are easy to get, wherever you are. And there's more to look forward to after signing up. Not only do you get a bonus just for joining, but we also have:
First Time Bonus: Get extra when you add money for the first time.
Weekly Rewards: Play regularly and get rewards every week.
Daily Bonus: Simply log in every day and get more to play with.
Bring-a-Friend Bonus: Tell your friends about Teen Patti Stars and earn rewards when they join!
All of this is ready for you in our mobile app, Teen Patti Stars. Play exciting games, earn big rewards, and have loads of fun, all on your phone. Come play with us!
How to Claim Your Sign-Up Bonus
Register: Complete the simple sign-up process on our platform.
Verify: Ensure all your details are correct and complete any required verification.
Claim: Navigate to the 'Bonuses' section and select the Sign-Up Bonus offer.
Enjoy: Dive into our games and make the most of your bonus.
The Sky's the Limit
Your first step into Teen Patti Stars is rewarded, but it's just the beginning. With regular promotions, challenges, and rewards, the sky isn't the limit—it's the starting point.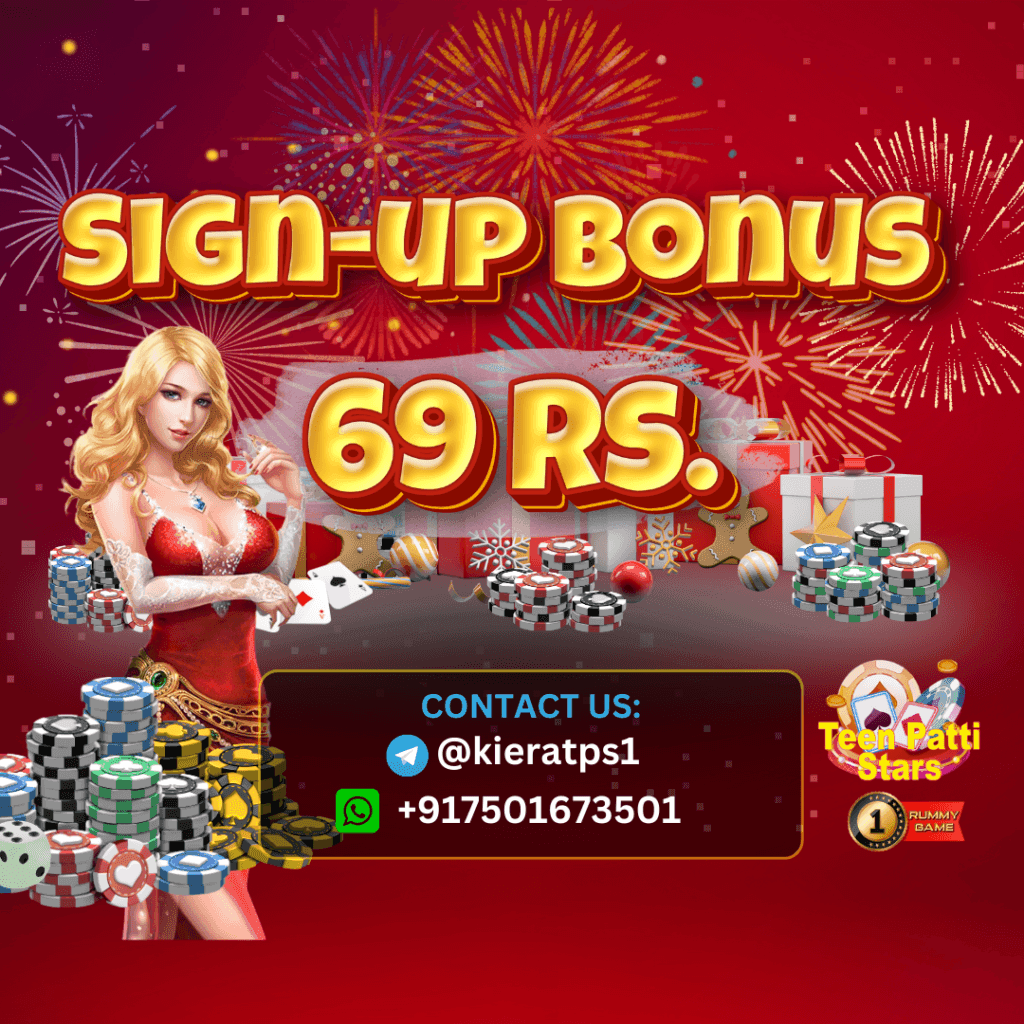 FAQs
Q: How long is the Sign-Up Bonus valid for?
A: The bonus remains active for a specific duration post-sign-up. Please refer to our detailed T&C for clarity.
Q: Are there wagering requirements for the bonus?
A: Yes, standard wagering requirements apply. For a comprehensive understanding, check our terms and conditions.
Q: Can the Sign-Up Bonus be combined with other offers?
A: Bonus combinations depend on specific promotional T&C. Ensure you review these before playing.
Start Your Teen Patti Journey with a Bang!
There's never been a better time to join the Teen Patti Stars community. With our Sign-Up Bonus, you're not just playing; you're playing to win big. Ready to become a star?
Once you decide to play Teen Patti Stars and sign up, you're already a winner!
Terms and Conditions apply. Please play responsibly.