Dive into the traditional world of Indian gambling with Jhandi Munda on Teen Patti Stars. Experience this cultural gem, take a seat online with a minimum entry of just 1000 chips, and immerse in a vibrant mix of luck and strategy.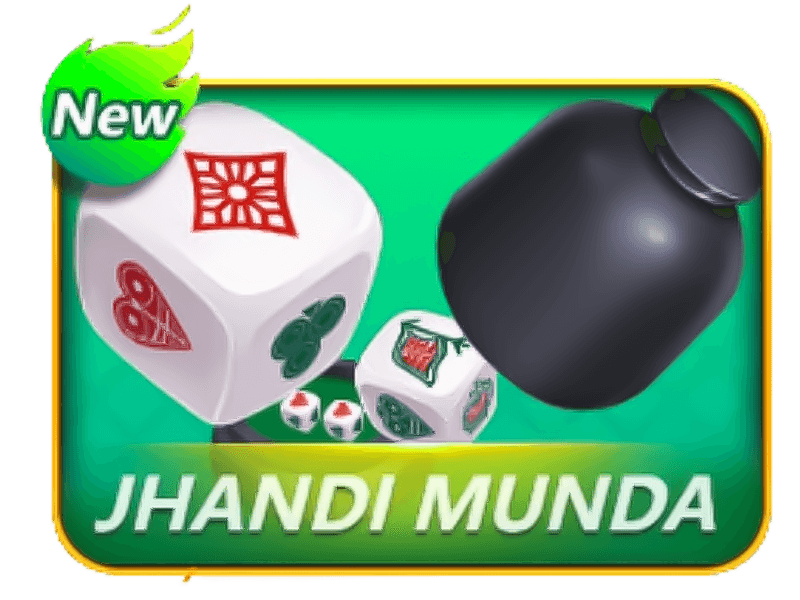 How to Play Jhandi Munda on Teen Patti Stars
Ready to join the ranks of seasoned players on Teen Patti Stars? Playing Jhandi Munda is straightforward:
Players are given 15 seconds to decide on their chosen symbol and place their bet.
Wait for the dice to roll and see if fortune graces you.
Strategize on which symbol to back, decide your bet amount, and dive into the classic experience.
Equipment
Experience authentic Jhandi Munda on Teen Patti Stars:
Six dice, each engraved with symbols: Heart, Diamond, Spade, Club, Face, and Flag.
A digital game board designed exclusively for our Teen Patti Stars community, offering seamless betting options.
Rules
Betting Phase: With 15 seconds on the clock, choose your symbol and place your bet. On Teen Patti Stars, you have the flexibility to back multiple symbols.
Rolling Phase: Our virtual dealer will shake and roll the dice, bringing the thrill right to your screen.
Payout Phase: Based on the rolled symbols, payouts are determined following our multiplier list.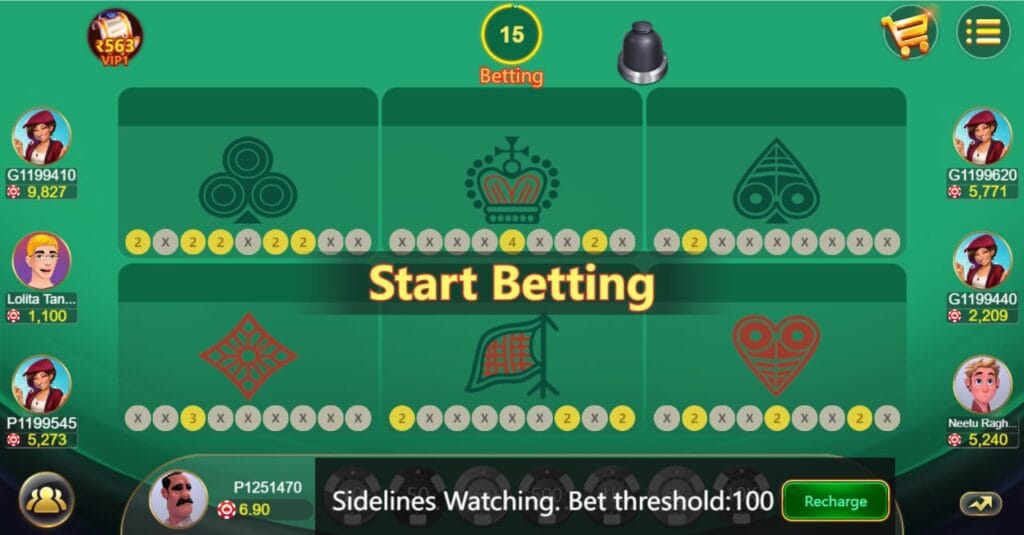 Multiplier List
0 or 1 symbol hit = Bid goodbye to your bet.
2 symbols hit = Watch your bet multiply x3.
3 symbols hit = Reap a sweet x5 on your bet.
4 symbols hit = Secure a whopping x10 on your bet.
5 symbols hit = Claim a stellar x20 on your original bet.
6 symbols hit = Celebrate with an unmatched x100 on your bet.
Jhandi Munda Strategies on Teen Patti Stars
Though Jhandi Munda leans on chance, our Teen Patti Stars pros often employ strategies. Some remain loyal to one symbol, while others switch based on previous outcomes. Every roll presents a new opportunity.
Jhandi Munda's Rich Legacy
This age-old game, proudly hosted by Teen Patti Stars, traces back to ancient India. Its blend of simplicity and thrill resonates through time, finding its modern digital avatar on our platform.
Responsible Gaming on Teen Patti Stars
At Teen Patti Stars, we champion responsible gaming. Jhandi Munda, like all our offerings, is to be played with mindfulness. Know your boundaries, and always prioritize fun over stakes.
Dive deeper into Jhandi Munda and an array of games on Teen Patti Stars – where tradition synergizes with modern gaming. Play responsibly and enjoy the thrill!
Frequently Asked Questions (FAQ)
Q: How do I start playing Jhandi Munda on Teen Patti Stars?
A: Simply log in to Teen Patti Stars, select the Jhandi Munda game from our game list, and take a seat online with a minimum of 1000 chips. Follow the on-screen instructions, and you're good to go!
Q: How long do I have to place my bet?
A: Players have a 15-second window to select their symbol and place their bets for each round.
Q: Can I bet on multiple symbols in one round?
A: Yes, on Teen Patti Stars, you have the flexibility to back multiple symbols in one betting phase, increasing your chances of winning.
Q: What happens if none of the dice show my chosen symbol?
A: If 0 or 1 of the dice display your chosen symbol, you lose your bet for that round.
Q: How are the winnings calculated?
A: Winnings are based on our multiplier list. For instance, if 2 of your chosen symbols appear, you win 3 times your bet. The full multiplier list can be viewed in the game rules section.
Q: Can I play Jhandi Munda on my mobile device?
A: Absolutely! Teen Patti Stars is optimized for both desktop and mobile experiences. You can enjoy Jhandi Munda on the go with our user-friendly mobile interface.
Q: Is there a strategy I should follow to increase my chances of winning?
A: Jhandi Munda is largely a game of chance, but many seasoned players employ various strategies, such as sticking to one symbol or switching based on past rolls. However, remember that every roll is independent and unpredictable.
Q: How do I practice responsible gaming on Teen Patti Stars?
A: We advocate for responsible gaming. Set your limits before you start, never chase losses, and always prioritize fun over stakes. If you ever feel the need to take a break, please reach out to our support team for assistance.
Q: Where can I get more information or assistance while playing?
A: Teen Patti Stars offers a comprehensive Help Center and 24/7 customer support. Click on the 'Help' or 'Support' button within the platform for more information or assistance