Enjoy enhanced bonuses when you recharge using the Bank to Bank Recharge Bonus method in Teen Patti Stars. Not only does this offer greater convenience, but it also brings you additional chips in comparison to standard third-party payment gateways. Here's how your rewards stack up:
| | | |
| --- | --- | --- |
| Recharge Amount | Chips via Payment Gateway | Bank to Bank Bonus Chips |
| Rs. 100 | 100 Chips | 107 Chips |
| Rs. 200 | 200 Chips | 214 Chips |
| Rs. 300 | 300 Chips | 321 Chips |
| Rs. 500 | 505 Chips | 535 Chips |
| Rs. 1000 | 1,015 Chips | 1,070 Chips |
| Rs. 2000 | 2,030 Chips | 2,140 Chips |
| Rs. 5000 | 5,100 Chips | 5,400 Chips |
| Rs. 10000 | 10,150 Chips | 10,800 Chips |
| Rs. 20000 | 20,240 Chips | 21,600 Chips |
| Rs. 30000 | 30,300 Chips | 32,400 Chips |
| Rs. 50000 | 50,500 Chips | 54,000 Chips |
Take note: The "Payment Gateway" column refers to the total chips you get when using third-party gateways. In contrast, the "Bank to Bank Bonus Chips" column showcases the enhanced bonuses you'll receive when opting for the Bank to Bank recharge method. Ensure you make the most out of your recharges by choosing the best method that suits your needs!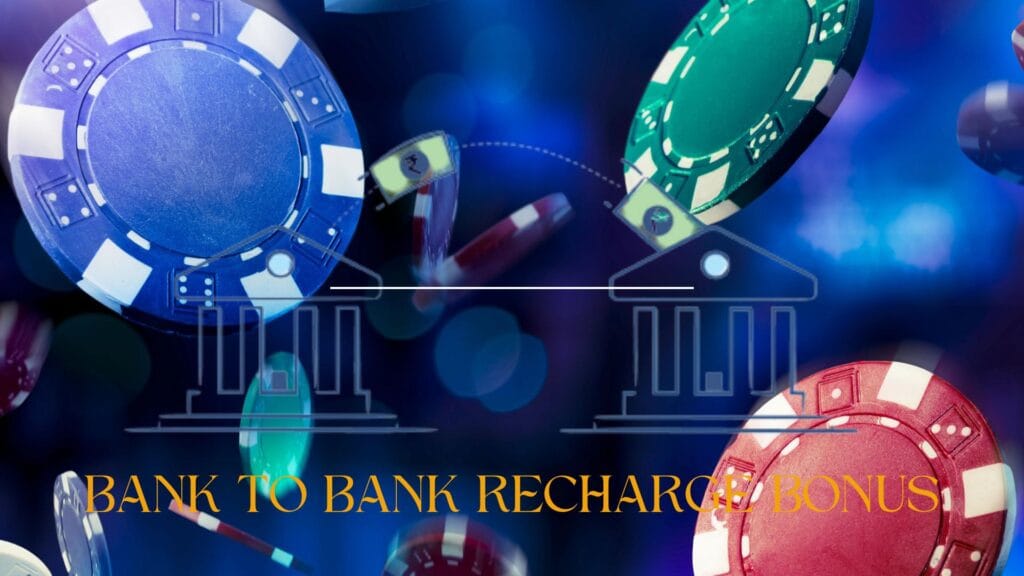 Payment Gateway Vs Bank to Bank Method
When it comes to recharging your account, understanding your options can make a significant difference in both convenience and rewards. Let's dive deep into the two primary methods: Payment Gateway and Bank to Bank.
1. Payment Gateway:
Pros:
Quick and Convenient: Most payment gateways offer instant transaction processing, ensuring that your chips are credited without delay.
Multiple Payment Options: From credit cards to digital wallets, payment gateways provide a variety of payment sources.
Security Protocols: These platforms come with advanced encryption, ensuring your transaction details remain confidential.
Cons:
Service Charges: Some gateways may have additional charges which could reduce the net amount of your recharge.
Reward Limitations: As seen in the table above, using payment gateways might provide fewer chips compared to the Bank to Bank method.
2. Bank to Bank Method:
Pros:
Higher Bonuses: Direct bank transactions typically offer more rewarding bonuses, ensuring you get more chips for every recharge.
No Hidden Charges: Since you're transferring directly from your bank, there's no middleman. This often means no additional charges.
Direct Control: You're in control of the transaction process, ensuring peace of mind.
Cons:
Transaction Times: Depending on the banks involved, transactions might not always be instant.
Manual Verification: Some bank to bank transactions might require manual verifications which could add to the transaction time.
While Payment Gateways offer quick and varied payment options with advanced security protocols, the Teen Patti Bank to Bank recharge bonus method provides superior bonuses with no middleman interference. Depending on your priorities – whether it's instant access or maximum rewards – you can make an informed choice. Always weigh the benefits and limitations of each method before making a transaction.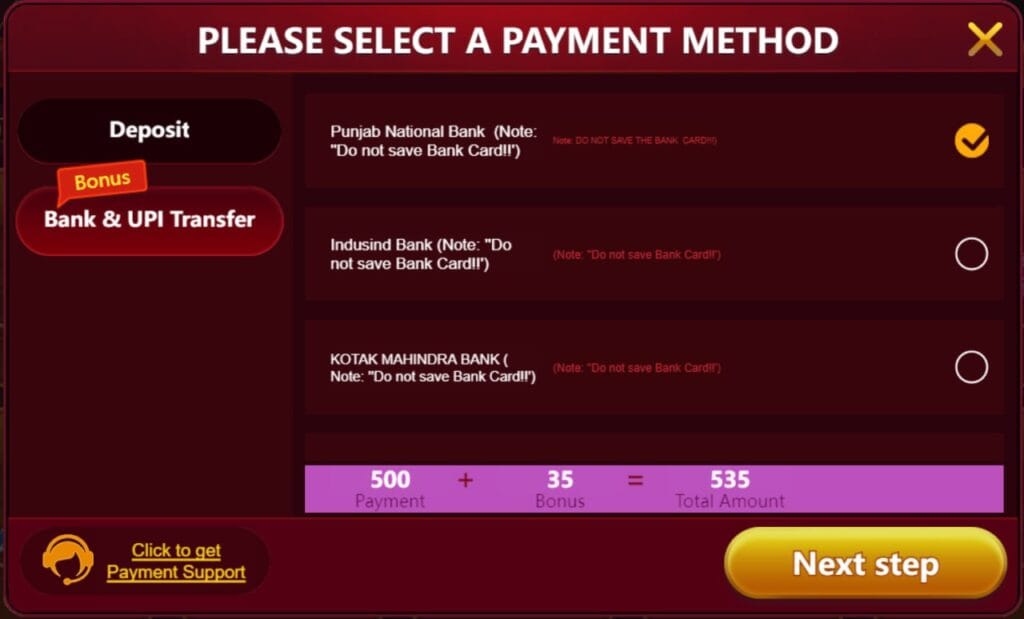 Winning Bonus: Every Time, You Win!
No matter how you recharge, you're always winning with us. Start with just 500 rupees through the payment gateway, and you'll see what we mean.
Choose bank-to-bank or the payment gateway, both ways, you get bonuses. And it's not just about recharging. We've got lots of other bonuses too:
A Weekly Bonus? Yep, every week.
A Daily Bonus? Every single day.
Bring a friend and get a Referral Bonus.
Want some money back? Try the Cash Back Bonus.
Good at making videos? There's a YouTube Promoting Bonus for you.
Oh, and if you're new here, your first recharge comes with a special bonus!
So, keep playing and keep winning at Teen Patti Stars. More games, more bonuses, more fun!
FAQs: Bank to Bank Recharge Bonus & More at Teen Patti Stars
1. What is the main difference between Payment Gateway and Bank to Bank recharge methods?
Payment Gateway is a third-party service that processes payments, while the Bank to Bank method is a direct transaction between two bank accounts. Bank to Bank generally offers more bonus chips compared to the Payment Gateway.
2. Why do I get more bonus chips with the Bank to Bank method?
By using the Teen Patti Bank to Bank Bonus method, we can bypass third-party charges, and we pass on those savings to you in the form of bonus chips.
3. I'm new to Teen Patti Stars. Is there a bonus for me?
Absolutely! New players get a special bonus on their first recharge.
4. How do I claim the YouTube Promoting Bonus?
If you create and promote Teen Patti Stars through YouTube, you're eligible for this bonus. Please contact our customer support for specific guidelines and claim procedures.
5. Are there any hidden fees with the Bank to Bank method?
No. The Bank to Bank method typically doesn't involve hidden fees since it's a direct transaction. However, always check with your bank about any potential transfer charges.
6. I missed a day of my Daily Bonus. What happens now?
If you miss a day, you'll need to start from the beginning to claim your Daily Bonus. Consistency is key to maximizing your rewards!
7. How can I get the Referral Bonus?
Bring a friend to Teen Patti Stars, and once they sign up and make their first recharge, you get a Referral Bonus. The exact details and amount can be found in our bonus section or by contacting customer support.
8. Can I combine the Weekly Bonus with other bonuses?
Bonuses are typically separate, but you can enjoy multiple bonuses as you play and recharge. Check out the terms for each bonus or ask our customer support for more details.
9. I've got questions about my transaction. Who do I contact?
Please reach out to our Customer Service Center for any transaction-related queries or concerns. We're here to help!